On September 5, the Literacy Foundation and its valued partner, the Desjardins Foundation, celebrated the perseverance and determination of 7 adults who have successfully completed literacy or basic training process by awarding 7 Go Getters' bursaries of $1,500 in the context of the 9th edition of the "I Don't Give Up, I'm a Winner!" event. The event took place at the BAnQ in Old Montreal.

Among the 201 applications received this year, seven were selected.
Seven men and women with unique backgrounds all having one thing in common: the ambition to succeed!
The Literacy Foundation is pleased to have celebrated, in the context of this edition, the exceptional journey of these recipients: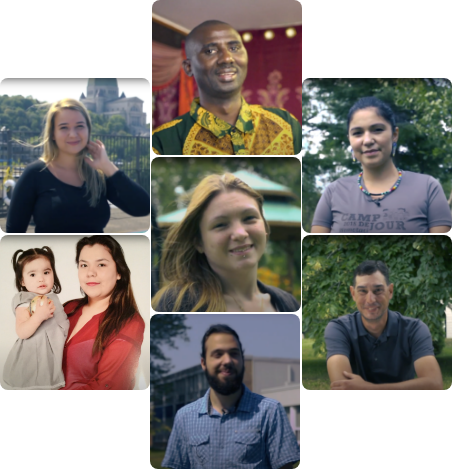 Centre multiservice des Samares – Commission scolaire des Samares
Alex is from Burundi. Before arriving in Quebec in 2015, he had never set foot in a school, did not speak French, and could neither read nor write. Because of the Centre multiservice des Samares, Alex was able to go to school for the first time and learn French. It just goes to show that when there is a will, there is a way!
École forestière de La Tuque – Commission scolaire de l'Énergie
Originally from Wemotaci, an Atikamekw reserve near La Tuque, Belinda is another fine example of the perseverance that characterizes our bursary recipients this year. Since 2005, her academic progress has been punctuated by several interruptions due in large part to illness. It was in 2016 that she returned to school for good, to École forestière de La Tuque. And this year, she is officially starting CEGEP!
Centre de formation des Maskoutains – Commission scolaire de Saint-Hyacinthe
Despite his love of school and the importance he places on education, Dominik experienced many delays in his education because of several interventions and hospitalizations resulting from his various health problems. That did not prevent him from continuing his studies at the Centre de formation des Maskoutains – Éducation des adultes. This is another great example of tenacity!
Centre d'éducation des adultes Champlain – Commission scolaire Marguerite-Bourgeoys
Living with cystic fibrosis, diabetes and ADHD, Isabelle's school journey has been anything but straightforward. Her numerous hospitalizations greatly slowed down her academic progress. Despite everything, she continues to fight for her dreams by pursuing her secretarial studies at the Centre d'éducation des adultes Champlain. She is a true model of resilience and courage.
Minnie Angel Mattawashish
Sabtuan Adult Education Services – Cree School Board
Minnie Angel Mattawashish is originally from Mistissini, a Cree village in northern Quebec. After dropping out of school at 16, she now aspires to become a carpenter or heavy equipment operator, like her father, in order to offer nothing but the best to her daughter! It was at the Cree School Board's Subtuan Adult Education Services that Minnie Angel pursued education in order to come one step closer to her dreams.
Originally from Montreal, school was hard for Sarah for a long time! It was the L'Ancre des Jeunes that allowed her, after several attempts, to obtain her high school diploma and it is with great pride that she will start CEGEP, this autumn.
Centre de formation de Rimouski-Neigette – Commission scolaire des Phares
After a tragic event that almost cost him his life, Steve returned to school after more than 25 years. While school has always been a bad memory for him, he now admits that he can create new, much nicer ones for himself. His return to school also allowed him to embark on a project he had been thinking about for a long time, but which he did not have the capacity to undertake … until today!