Donating to the Literacy Foundation ensures the stability of services and increases support for people with reading, writing or numeracy difficulties to allow them to fully participate in society.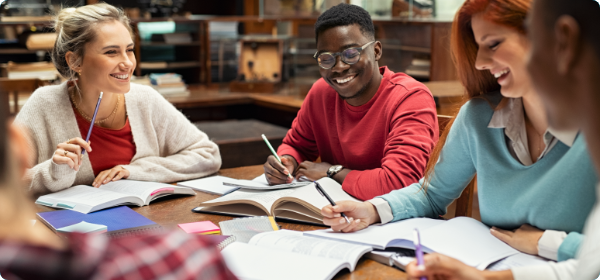 Thanks to your generosity:
≈ 75 000
people helped by Info-Alpha since 1990
≈ 55 000
people helped by Adult Learnline since 2002
+ 850 000
books were distributed as part of The Gift of Reading program since 1999
+ 900
families have taken part in the Cook-words workshops
Support the mission of the Literacy Foundation through fundraising. Whether you do it personally or in a corporate capacity, this is a small gesture that leads to great things!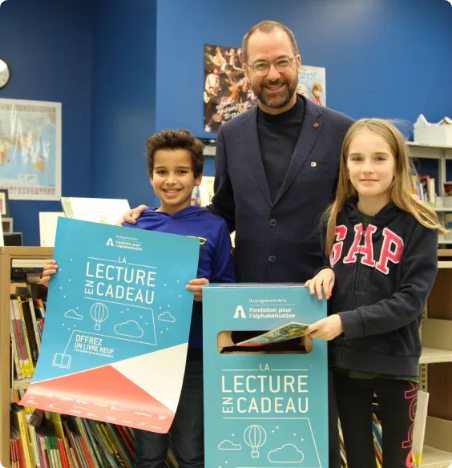 Our initiatives and programs
Your donations help maintain our support and referral services:


As well as our support programs and projects, such as:


Thank you to all our donors
Through your invaluable support and commitment, you become important actors in the achievement of the mission of the Literacy Foundation.
Special thanks to the donors of the past year: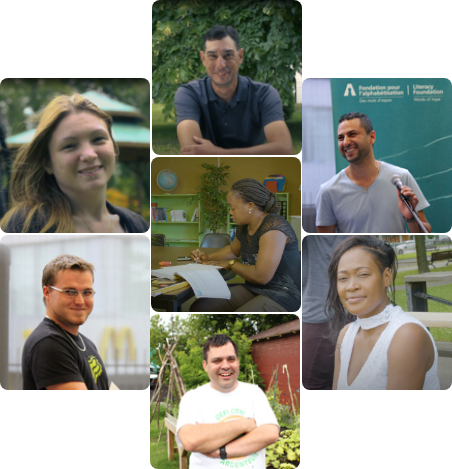 Corporate donations ($1,000 and more)
152245 Canada inc.

Banque TD

Église La Chapelle

Fondation Ariane et Réal Plourde

Fondation Carmand Normand

Fondation de Claire et Jean-Pierre Léger

Fondation Desjardins

Fondation Luc Maurice

Fondation Lucie et André Chagnon

Fondation pour l'enfance CIBC

Fonds de bienfaisance des employés de Bombardier aéronautique

Industrielle Alliance

Les Soeurs de Saint-Joseph de Saint-Hyacinthe

Oeuvres Régis-Vernet

Québecor

René Villemure Éthicien

Trio Orange inc.

Wawanesa

 
Individual donations ($100 and more)
Louise Archambault

Lorraine Arsenault

Mélanie Aubut

Jacques Baillargeon

Jean Baril

Danielle Beauchemin

André Beaulne

Natacha Beausoleil

Luc Bergeron

Hugo Bergeron

Gilles Binet

Pierre-Jean Bissonnette

Agathe Bolduc

Marjolaine Bordeleau

Marguerite Bouchard

Jocelyn Boucher

Claude Brulotte

Pierre Brunel

Nathalie Carbonneau

François Cardinal

Mathilde Champagne

Dominique Charron

Sonia Chénier

Mario Chioini

Edith Cloutier

Donald Cope

André d'Orsonnens

Martine Desjardins

Jacques Deslauriers

Claude Dolan

Pierre Doray

Marianne Dubuc

Danièle Duchesne

Denis Dumas

Marie-Claide Dumas

Monique Dumont

Lionel Dupuis

Luc Dupuy

Catherine Fazio

Douglas Fish

Alexandre Forest

Yann Fortier

Emmanuel Y. Garon

Gilles Gendron

Caroline Geoffroy

Mario Gervais

Marie-Ève Gingras

Jacques Girard

France Goulet

Dominique Gravel

Jacques Grysole

Louise Guillemette-Labory

Louise Hamel

Ines Holzbaur

André Huberdeau

Robert Jacques

Donald Janson

Sophie Labrecque

Chantal Lafontaine

Lise Lambert

Raymond Landry

Anita Lapenna

Isabelle Laporte

Janice Larivière

Alexandre Larocque

Sébastien Le Neindre

Francine Legault

Gilles Levesque

Monique Lo Tse-Lang

Jacques Marchand

Philippe Marchessault

Richard Mayrand

Jacques Moisan

Raffi Nakhoul

Jacques Neatby

Marie Nepveu Groulx

Marie Louise Ollier

David Pagé

Luc Paquet

Sylvain Perras

Marie-Claude Petit

Doan Trang Phan

Sylvaine Pichette

Caroline Poirier

Marie-Claude Provost

Isabelle Provost

Yves Robert

Michèle Robert

Bruno Ronfard

Carole Rousseau

Yolande Roy

Linda Santerre

Sylvie Santerre

Monique Savage

François Savard

Paul Smith

Catherine Tremblay

Guillaume Trudeau

Patrice Varin

Sylvie Venne

Frederic Verreault

René Villlemure

François Vohl

 
Monthly donations (cumulative donations of $100 and more)
Bertin Beaupré

Brigitte Bégin

Diane Benoît

André Bergeron

Chantal Bouchard

Bruno Boucher

Denise Boulé

Pierre Carisse

Lizanne Castonguay

Louise Chartrand

Linda Chiasson

Édith Cloutier

Marielle Côté

Michèle Couture

Manon Croteau

Véronique De Bellefeuille

Louise Dubé Potvin

Pauline Dubuc

Clémence Fortin Lavoie

Nicole Frascadore

Hélène Fugère

Marie-Ève Gingras

Louise Guillemette-Labory

Nathalie Hamel

Joëlle Hassoun

Vincent Héritier

André Huberdeau

Yveline Jean-Charles

Grace Kelly

Richard Landry

Naomi Lebel

Nathalie Lebreux

Monique Lo Tse-Lang

Marie-Madeleine Lochet

Lise Marchand

Rachel Marcoux

Odile Marquis

Patricia Massé

Lise F. Meunier

Diane Mockle

Anouk Neveu-Laflamme

Mélanie Nguyen

Gaétan Paquin

Huguette Plante

Danielle Poupard

Sylvie Provencher

Danielle Prud'Homme

Denise Roberts

Luc Saint-Hilaire

Édith Sans Cartier

Louis Savard

Isabelle Soulard

Stacey Tanenbaum

Micheline Therrien

Maxime Tremblay

Manuela Valente

Marielle Vigneault